Instructions For Use:
1.) Strip stall

2.) Spread pellets evenly - 1" deep (approximately 5 to 7 bags for a 12x12 stall, adjust accordingly).

3.) Spray water lightly on pellets to expand and fluff.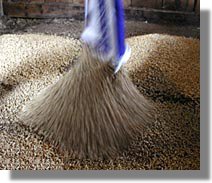 ---
MAINTENANCE:

1.) Remove solids daily and pick wet spots as they become apparent.

2.) Add pellets as necessary (approximately 1 bag a week). Moisten to expand and fluff.

3.) Bedding should be slightly moist to the touch, moisten when too dry.

4.) Strip stall as necessary (approximately every 4 months) and start fresh.


---
Manure Management:

A problem facing all horse owners, regardless of the size of their operation, is manure management. This is something that is becoming more of a problem with the ever-increasing legislation regarding disposal.

Equine Pine® is the answer! Disposal volume will be reduced by up to 50-60%. With shavings, the manure pile is more bedding than manure. With Equine Pine you pick only the manure and wet spots and remove very little bedding. When you reduce the amount of waste, you reduce the amount of consumption and cost. In addition, if you are paying to remove the waste, these costs will be dramatically reduced.

An added bonus is that the used sawdust and manure makes some of the highest quality compost available. There is actually income to be made if you choose to do so. Go to www.o2compost.com and find out more about this. One of the testimonials on the site is from a farm with 12 stalls that used to have removal costs of $4,800 a year. After composting they were selling $7,700 a year to a local tree nursery. That's a positive swing of $12,500. This was enough to pay for all their bedding needs and then some!